¿Qué es Stata?
El software estadístico Stata es un paquete de software estadístico completo e integrado que proporciona todo lo que necesita para el análisis de datos, la gestión de datos y los gráficos. Stata no se vende en módulos, lo que significa que obtiene todo lo que necesita en un solo paquete. Y puede elegir una licencia perpetua, sin nada más que comprar para siempre. También están disponibles las licencias anuales.
¿Quién usa Stata?
Stata se distribuye en más de 180 países y se utiliza por cientos de miles de investigadores profesionales en muchos campos de investigación. Para obtener más información, visita www.stata.com/disciplines
¿Dónde se puede implementar Stata?
Basado en la nube
Entorno local
---
Sobre el proveedor
StataCorp
Fundada en 1985
Asistencia de Stata
Asistencia telefónica
Chat
Países disponibles
Estados Unidos
Sobre el proveedor
StataCorp
Fundada en 1985
Asistencia de Stata
Asistencia telefónica
Chat
Países disponibles
Estados Unidos
Imágenes y vídeos de Stata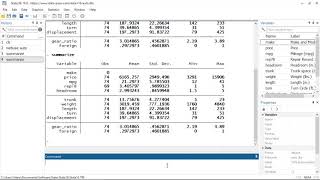 Comparar el precio de Stata con productos similares
Funciones de Stata
Análisis bayesiano
Análisis de autoservicio
Análisis de la supervivencia
Análisis de regresión
Análisis estadístico
Análisis multivariante
Análisis predictivo
Cartografiado de datos
Control de calidad de datos
Creación de informes y estadísticas
Creación de informes/análisis
Extracción de datos
Importación y exportación de datos
Informes personalizables
Limpieza de datos
Preparación de datos para servicio por cuenta propia
Previsión
Simulación estadistica
Time Series Analysis
Visualización de datos
Rahat
Analyst en EE. UU.
Usuario de Linkedin verificado
Investigación, 11-50 empleados
Ha utilizado el software durante: Más de dos años
Excellent for econometric analysis.
Comentarios: There are some things that Stata does extremely well - the statistics and econometrics in particular. And it does these things reliably and fast, with a good support network. If you're willing to pay for it, performance is even better - using up to 64 cores. But for more general purpose statistical work, R is not only free, but better (even though it is more buggy).
Puntos a favor:
This is statistical programming software that is excellent for canned econometric procedures. Reliable and fast, with a huge library of procedures built in, and an even bigger user-contributed library. Online support through the statalist forum is also amazing. It also has a matrix programming language (Mata). The graphics capabilities are also easy to use and very high quality. Has a lot of related features like heatmaps, producing production-quality regression tables, etc.
Contras:
This software is expensive. You're paying for something that is reliable, tried and true, with a great support network. But there are other free options, such as R. Furthermore, while this is excellent for canned statistical and econometric procedures, the programming language itself is not anywhere near as developed as something like R. For example, work with text etc is out of the picture. It is quite un-intuitive for someone coming with a programming background, and has weird quirks - such as only being able to keep on dataset in memory at a time. These issues mean that achieving what could be achieved in 3 lines of code in another language, might take 100s in Stata.
Ryan
Senior Research Analyst en EE. UU.
Aprendizaje en línea, 1,001-5,000 empleados
Ha utilizado el software durante: Más de dos años
Stata is really good for statistical analysis
Comentarios: Stata was really wonderful because it had a really low learning curve and I felt like it was a much better product than SPSS. It was my favorite language until I learned R. R works much better for the work I am doing now but Stata will always have a special place in my heart and I would recommend Stata to anyone who wants to start getting into data analysis but hasn't had a lot of programming training
Puntos a favor:
I liked that the syntax of the language was really intuitive. Moving from SPSS to Stata made me feel like I could actually keep track of the code myself. I also loved that there was so much support online
Contras:
Stata was really good for academic data analysis but it didn't meet all of the needs for programming data analysis. The for loops were there but not really intuitive. It was really hard to run a lot of different analyses and then compare them. That is why I say that it is really good if you are running a few analysis for an academic manuscript but I wouldn't run large scale business analyses in it
Respuesta de StataCorp
hace 3 meses
Thank you for your comments.
Rafael
Jefe del departamento de Oceanografia en Venezuela
Usuario de Linkedin verificado
Ha utilizado el software durante: Más de dos años
Acceptable statistical analysis and inference tool.
Comentarios: Although it is not the software that I normally use, especially due to the deficiencies in its graphical presentation of results, I use it frequently to compare the results it produces, against the results obtained with other software, both commercial and self-developed. This has allowed me, in many cases, to validate the results obtained.
Puntos a favor:
Price, that although it is not cheap, if it is competitive with respect to other softwares of similar characteristics. It allows me ample freedom to customize the way of presenting the results obtained, which in general is not the best. The after-sales service is good, with regular updates and an excellent help section.
Contras:
Talking with my students, the cost is accessible to people like me, but it is not for the average student, especially when the licenses must be renewed periodically. If there is something to criticize the program is the way of presenting the data, where there is a lot of improvement field, since the outputs produced by default are of limited quality and presentation, especially if you want to enter a publication. The error code messages are not very useful in order to solve the error.
Usuario verificado
Research Associate en EE. UU.
Usuario de Linkedin verificado
Investigación, 1,001-5,000 empleados
Ha utilizado el software durante: Más de dos años
Alternativas consideradas:
Stata is the best.
Comentarios: I have found Stata to be capable of doing 99% of the things I need a stats program to do, and it does them quickly, efficiently, and without much work on my part. Most issues I have run into with Stata are user-generated, and quickly solved by referencing Stata's extensive documentation or its very strong Stata discussion community. That said, it was a bit intimidating at first, being that it's mainly command-driven rather than menu-driven. This creates a slight issue when trying to bring coworkers who haven't used Stata before into the fold.
Puntos a favor:
I enjoy the interface -- maybe just because I'm used to it. Still, the flexibility of being able to type something into the command line ad hoc rather than writing it into a syntax file when I just want to see what a command is going to do with out "committing" is nice. The general structure of how Stata presents data and elements of the data within the GUI, specifically the ability to see basically everything in one main window, tends to make my life a lot easier.
Contras:
It's kind of ugly. The output especially is pretty bad, even using Stata markup log files. I find that colleagues who do not use Stata are a bit off-put by output I send them in plain-text log files, compared to fancier tables/web reports easily generated in SPSS. Even though my workplace is currently paying for it, I am still not a fan of Stata's pricing structure.
Respuesta de StataCorp
hace 3 años
Thanks for the feedback!
Mohammed
Field Manager en Ghana
Gestión de organizaciones sin ánimo de lucro, 11-50 empleados
Ha utilizado el software durante: Más de dos años
Alternativas consideradas:
one stop shop for all your data analysis needs
Comentarios: As we began consulting on national-scale projects with massive datasets and sophisticated data analysis and reporting needs, it was only normal that we migrate from the equally efficient but less technical alternatives we were using prior. And the great wealth of freely accessible online resources and communities has been the most essential differentiator that separates Stata from other options.
Puntos a favor:
Stata provides a comprehensive package of functions that allows us to manage and analyze project research data very efficiently. Particularly with purely statistical functions. Stata also has a very dedicated user community, which translates to extreme ease of getting help when we get stuck.
Contras:
Learning to use Stata was very challenging for me, as someone coming from the significantly less technical alternatives I had been using to that point. I also think product licensing can be improved to make it easier for smaller teams to subscribe at relatively lower costs.
Respuesta de StataCorp
el año pasado
Thank you for your feedback!