¿Qué es Schedulicity?
¡Amado por otras 100 000 empresas en Schedulicity! El software de programación de horarios todo en uno, sin complicaciones, para administrar tu empresa fluidamente. Todo lo que necesitas se automatiza de manera sencilla: programación de citas/clases, pagos sin interrupciones, marketing por correo electrónico, recordatorios de texto para los clientes y más.
Los clientes pueden hacer reservas en horario ininterrumpido a través del sitio web, la aplicación o incluso tus perfiles de Facebook e Instagram. Solo tardas unos minutos en comenzar… y no hay contratos. Observa cómo prospera tu negocio y añade lo que tu negocio necesita.
¿Quién usa Schedulicity?
Empresas de servicio y de impartición de clases que operan su negocio a través de un libro de citas.
¿Dónde se puede implementar Schedulicity?
Cloud, SaaS, Web, Mac (desktop), Windows (desktop), Windows (local), Linux (local), Android (móvil), iPhone (móvil), iPad (móvil)
Sobre el proveedor
Schedulicity
Ubicado en BOZEMAN, EE. UU.
Fundada en 2009
Asistencia telefónica
Chat
Países disponibles
Canadá, Estados Unidos
Sobre el proveedor
Schedulicity
Ubicado en BOZEMAN, EE. UU.
Fundada en 2009
Asistencia telefónica
Chat
Países disponibles
Canadá, Estados Unidos
Imágenes y vídeos de Schedulicity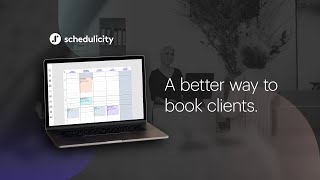 Comparar el precio de Schedulicity con productos similares
Funciones de Schedulicity
Acceso móvil
Alertas y notificaciones
Base de datos de clientes
Citas recurrentes
Confirmación y recordatorios
Creación de informes y estadísticas
Gestión de calendarios
Gestión de citas
Gestión de clases
Gestión de clientes
Gestión de empleados
Gestión de eventos
Gestión de la comunicación
Gestión de la disponibilidad
Gestión de membresías
Gestión de personal
Gestión de reservas
Integración de páginas web
Integración de redes sociales
Marketing por correo electrónico
Pagos en línea
Panel de actividades
Para centros de belleza y balnearios
Perfiles de clientes
Planificación de personal
Procesamiento de pagos
Procesamiento de tarjetas de débito/crédito
Programación
Programación a tiempo real
Programación automatizada
Programación de citas
Recordatorios
Reserva en línea
Seguimiento de la asistencia
Sincronización de calendario
Varias ubicaciones
Alternativas a Schedulicity
Charron e. S.
Owner en EE. UU.
Usuario de Linkedin verificado
Entretenimiento, 2-10 empleados
Ha utilizado el software durante: 6-12 meses
Alternativas consideradas:
Hip to Schedulicity
Comentarios: I can setup my service and have them ready for the client. It is a good start up if you need something. Plus you can set it up with Instagram and facebook pages.
Puntos a favor:
Schedule system is easy to use. I can setup a class or service list and let the client pick what they want in service. Manage my team agendas and hours. add a landing page for my website
Contras:
To get full access to the program, you need to get a payment plan. The free plan works well if you are starting out and trying to get booking of client but you only get 10 bookings a month.
Andreanne L.
Flexibility and mobility trainer en Canadá
Salud, bienestar y deporte, Trabajador autónomo
Ha utilizado el software durante: Más de dos años
Alternativas consideradas:
Easy to use + Outstanding customer service
Comentarios: Outstanding customer service. Very helpful and resourceful staff, I always got a prompt and warm response to my inquiries. I felt supported and well cared for.
Puntos a favor:
Very simple and intuitive setup process. Super user friendly. Loved the add-on format for selecting the services I needed, not paying for features I wouldn't use.
Contras:
I would have loved to be able to translate all of the automated emails for my francophone clients and be able to offer them with access to their accounts on a French platform but overall I was so satisfied with the product I found it was worth working around this minor issue!
Nadia D.
Founder en EE. UU.
Administración educativa, 2-10 empleados
Ha utilizado el software durante: Más de dos años
Once an excellent scheduling and payment processor...now subpar
Comentarios: The business problems I am solving appear to be those created by using Schedulicity. The 'Rockstars' are friendly, but whoever is in charge really needs to think about R & D and QA. I loved Schedulicity at its inception, now I see very little benefit to using it....unless you call mindless hours clicking on appointments to determine whether or not a session has been paid for each and every session for each and every client.
Puntos a favor:
Scheduling is easy from my clients end. Set up was easy. I DID like the ability to quickly checkout clients and track packages. This functionality has had bugs for at least 6 months. Schedulicity has now introduced a new bug, such that on the calendar view, I cannot tell who has been checked out.
Contras:
The number of bugs that are introduced and the absolute waste of time spent on non-sensical aesthetic icons. The lines of the icons became smaller. They got rid of an apple symbol. Who are the ad wizards who decided this is a necessary and useful functionality update? Most users of this product are literate. Most users of this product are seeking ease of use and functionality. Yes, we want it to look nice, but the icons actually look sillier and some poor developers spent time coding for this garbage! Their time could have been better spent fixings the bugs and developing a QA team! Sweet baby J, how can they constantly be updating but not testing for bugs? How can a really great product become so aggravating because millennials wish to spend their energy on the thickness of lines of icons, instead of what actually matters?!
Usuario verificado
Photographer, Business Owner en EE. UU.
Usuario de Linkedin verificado
Fotografía, Trabajador autónomo
Ha utilizado el software durante: Más de dos años
Alternativas consideradas:
Great appointment booking software for small businesses!
Comentarios: It has saved me a lot of time and kept my clients on track with their bookings while I didn't have to do much on the backend. That has been a lot less stress for me and absolutely worth it!
Puntos a favor:
I love that even on the free plan, the software still has very usable features, albeit limited.
Contras:
I will have to admit it's a bit pricy, especially for a small one person business. However, if you're planning on growing and are serious about automating bookings and saving time, it really is a huge time saver!
Joan S.
Licensed Massage Therapist en EE. UU.
Usuario de Linkedin verificado
Ha utilizado el software durante: Más de dos años
I have utilized online scheduling for over 15 years and this system is the most user friendly of any
Puntos a favor:
I have used many other systems and many of them are clunky and difficult to use. My high tech clients and my computer newbie clients alike tell me they appreciate how easy and intuitive the options are. I like that it doesn't require that I take payment or payment information from my clients. I don't want to scare them away when they want to work with me. I like that I can keep track of packages by date so I know when packages have been purchased and what is left over easily. I like that system works well on a phone and on my computer. The staff response rate is incredibly quick and knowledgeable, it also feels personal, like a friend is writing me about the status of my request, not just a down and dirty response. When staff doesn't know the answer, they get back to me fast. Other systems I have used have bugs in the system that they have expected us to get used to. I have only had one time when we couldn't use the system for a very brief period of time in over 5 years of use. Love the fact that we can customize personal time into the schedule easily, and that we can click on it to change individual or series appointments, very useful.
Contras:
I would love to look back on dates for even longer than the system allows - years back would be great. It really has replaced my datebook and I have always been a paper datebook girl but this was too easy too use for everything. I had so many people using the online system that I couldn't keep up with the paper option, it was no where near as up to date as the online system. I would like the date to be more obvious for package purchases than it is currently. You can see when it was purchased in edit, but it's not visible unless you hit that button.