¿Qué es M-Files?
M-Files ofrece una plataforma inteligente de gestión de contenidos de última generación que mejora el rendimiento del negocio y ayuda a las personas a encontrar y usar la información de manera más efectiva. Mejora el flujo de trabajo, aumenta la reutilización de información, elimina la redundancia, controla de forma segura el contenido y evita conflictos y pérdida de datos, todo en una única e intuitiva solución de gestión de contenidos que se integra con Windows Explorer. Miles de organizaciones en más de 100 países usan M-Files para gestionar sus necesidades de información empresarial.
¿Quién usa M-Files?
M-Files es una solución para pequeñas y medianas empresas que dependen en gran medida de los procesos en papel. M-Files ofrece un alto valor a las empresas de sectores altamente regulados.
¿Dónde se puede implementar M-Files?
Cloud, SaaS, Web, Windows (desktop), Windows (local), Android (móvil), iPhone (móvil), iPad (móvil)
Sobre el proveedor
M-Files
Ubicado en Plano, EE. UU.
Fundada en 1989
Asistencia telefónica
Sobre el proveedor
M-Files
Ubicado en Plano, EE. UU.
Fundada en 1989
Asistencia telefónica
Imágenes y vídeos de M-Files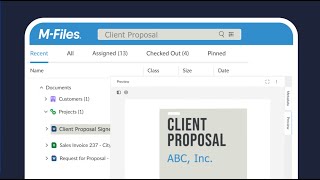 Comparar el precio de M-Files con productos similares
Funciones de M-Files
Almacenamiento de documentos
Archivo y conservación
Búsqueda de texto completo
Búsqueda/filtro
Captura de documentos
Cifrado
Clasificación de documentos
Control de versiones
Controles o permisos de acceso
Conversión de archivos
Firma electrónica
Gestión de documentos
Gestión de flujos de trabajo
Herramientas de colaboración
Modelos personalizables
Reconocimiento óptico de caracteres
Registro de auditoría
Seguimiento de la conformidad
Sincronización en tiempo real
Uso compartido de archivos
Joe
Engineer
Usuario de Linkedin verificado
Aerolíneas/aviación, 10,000+ empleados
Ha utilizado el software durante: Más de dos años
Daily User
Los subtítulos en español están disponibles en el reproductor de vídeo
David
Arquitecot IT en Chile
Administración gubernamental, 501-1,000 empleados
Ha utilizado el software durante: Más de dos años
Fuente: SoftwareAdvice
Excelente Gestor Documental
Comentarios: Buena experencia, aun faltan mas canales en latinoamerica, mas servicio de la marca
Puntos a favor:
La facilidad de busqueda y la interfaz muy amigable
Contras:
EL precio, es algo alto ya que se cobra por licencia
Respuesta de M-Files
el año pasado
Hello, Thank you for taking the time to complete this review. We value your time and appreciate the score! Again, thank you and we look forward to your continued business!
Clarwin
IT Services Manager en Filipinas
Usuario de Linkedin verificado
Ha utilizado el software durante: Más de dos años
Go-to application for any Digitization Project
Comentarios: M-files is a must for any company seeking to implement digital transformation initiatives in their company. I love best is its extensive feature set and seamless integration with Microsoft products (e.g., office, IIS server, MS SQL, Windows, etc.) The workflow feature is easy to customize, setup, and implement. It will change the way you deal with paper documents once you experience how easy it is to digitize, and manage your documents. The OCR functionality is a beast! Just like having Google on your local repository, reading through the very contents of your digital documents.
Puntos a favor:
The thing I like the most is the seamless integration with Microsoft products. This made it easy for implementing the use of M-files into our office workflow (it works well from within Outlook, Microsoft Office, even Windows Explorer). The creation of a Workflow is made very easy via a graphical workflow editor. Just a little learning curve and we are able to setup the different manual processes into a solid digital workflow for the office (e.g., filing for leave, routing of papers for approval, storing scanned copies of contracts and any kind of document in the office).
Contras:
When implementing on a large scale (e.g., company-wide) we really had to sit down and plan out our licensing arrangement. Note that M-Files comes in a variety of licensing options (e.g., read-only, named user, concurrent user). Some offices can possibly share licenses (but number of active sessions will be limited). Planning out the best license option is quite a task since we were woking on a limited buget and we had to optimize the value-for-money setup we can have. It can also be a bit overwhelming for new users. We had a bit of difficulty in the deployment since we had to train all the users (who found it not so intuitive at first). But then, after the training, it has then been integrated well for our daily use.
Chris
Systems Analyst en Canadá
Construcción, 51-200 empleados
Ha utilizado el software durante: 1-5 meses
Alternativas consideradas:
ISO Optimized DMS Software
Puntos a favor:
With our company looking to become ISO certified, we knew that a proper DMS/QMS system would be required within our company. After multiple meetings, we decided on M-Files as it provided the easiest integration into our current system, and increased our security control for all documents within our company. We now have the ability to control change management, document approval process, SOP reviews, etc. efficiently and effectively
Contras:
It can be confusing at first with having to 'check out' a document from M-Files to review and/or edit. Once complete, you check it back in which will change the version number of the file. Once figured out, all of our documents are now properly maintained.
Software informático, 11-50 empleados
Ha utilizado el software durante: Más de dos años
M-files a Feature Product
Comentarios: I launched M-files in Pakistan and made marketing from Scratch. I made more than 100 POCs and about Dozen of Implementations. The experience shows at the end user is very happy with m-files.
Puntos a favor:
Rich in Features, more flexible, more Connections with other Solutions, Metadata based Permission
Contras:
Like adding Tables, images in Text Box, Need more expertise in using Configuration, compliance kit.
Usuario verificado
Software Developer en Alemania
Usuario de Linkedin verificado
Seguridad e investigaciones, 201-500 empleados
Ha utilizado el software durante: Más de dos años
Fuente: GetApp
Expensive, bad documentation, no debugging capability and bad support from the vendor
Comentarios: We are a german company that uses M-Files for some years. I'm the poor guy that has to configure the backend/server side.
The basic functions are easy to setup, once installed, the server and client side runs well. The basic idea is easy to understand, documents belongs to classes ans has class-specific metadata attributes like "telephone number". Attributes can be linked to other objects... fine!
What makes me sleepless nights is, that if the implementation of a little bit more complex things like right structures, workflows with many steps e.g., you're totally lost with M-Files.
There are some different documentation pdfs, describing just the basic functionality - WITHOUT CLEAR EXAMPLES.
There's the possibility to submit tickets (if you have a support contract). This tickets are answered after some days by (asian?) supporters. There's a lot of mail-overhead just to desribe the problem. In most cases the supporters does not respond to the concrete problem. The do'n offer, for example, a short teamviewer session to solve the problem on the customers system. That's can not be calles good support!
M-Files provides the possibility to write own (visual basic) code, triggered by event handlers. This code can be written to a empty white editor (without any debug possibilities, or any kind of help to the programmer) on the server side. Notepad.exe provides more features! No Breapoints, no debug log output, the only way to debug own code is to rise exceptions that blows the script. That is 1983, not 2017! The API functions are not nice encapsulated, it's a nightmare to wirte own code...but required often - to customize and build workarounds for missing functionality.
Logging in general...not nice. There's a "event log" on the server side. Some basic events are logged here, for example login, logout, document checkout... But it's not very detailed! If somethin went wrong, it's not written there. Maaan!
The user frontend (windows client) looks nice and works well. The server side looks also nice on the first view, but many "nice" features are not implemented. Lists of 300+ Users... no search field, no possibility to select 5 people and delete them, you have to do tis one by one... I hope this (view from the administration part) gives you a small impression of the daily work. M-Files seems to spend a lot of money in marketing an nice small videos to bring the CEO to buy the product, but where are the videos describing the rights structure from the technical side? Nope!
Puntos a favor:
- Usefull user interface on the client side - Good basic structure
Contras:
- Expensive - Very bad support - Bad documentation - No usefull examples - Not self-explaining to the adminsitrator