QuestionPro
¿Qué es QuestionPro?
QuestionPro es una destacada empresa de soluciones de encuestas SaaS que proporciona una amplia gama de aplicaciones para cuantificar y administrar la experiencia del cliente, la implicación del
Leer más
empleado y la opinión del público. Recopila datos y obtén información que te ayude a tomar decisiones más inteligentes. Envía encuestas en menos de 5 minutos con más de 40 tipos de preguntas, plantillas de encuestas listas para usar y temas de diseño personalizable. Esta solución cuenta con certificación ISO 27001 y cumple con los principales estándares de seguridad de datos y las leyes de privacidad de datos, como el RGPD.
Mostrar menos
¿Quién usa QuestionPro?
Con más de 2.5 millones de usuarios en 100 países, el desarrollador ha suministrado software de encuestas a empresas de Fortune 100, instituciones académicas, pequeñas empresas e investigadores individuales durante más de diez años.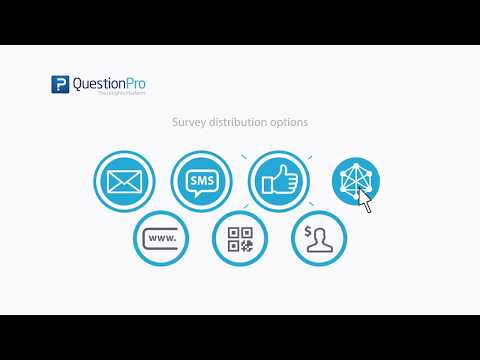 ¿No estás seguro sobre QuestionPro? Compara con una alternativa popular
Versión gratuita
Prueba gratuita
Versión gratuita
Prueba gratuita
¿Por qué estoy viendo esto?
Alternativas a QuestionPro
John
Member of Qualifications Committee en RU
Administración educativa, 2-10 empleados
Ha utilizado el software durante: Más de dos años
Alternativas consideradas:
Quality well featured software free for Non Profits
Comentarios: The software has allowed us to see areas where our product can be improved which has resulted in better support of our clients. It has also allowed us to prepare reports for the accreditation authorities who approve our ongoing capacity to effectively evaluate student achievement in the (Non Profit) school's who use our certification process.
Puntos a favor:
Met our requirements and the Advanced version is free for Non Profits (normally over $!000 pa). Particular features we were looking for were not available with the Basic version which is free for all users. These features include Multilingual Surveys and enhanced support. Many other features are available in the Advanced version which we anticipate making more use of in the future.
Contras:
It was quite a learning curve to use for someone unused to doing surveys (previously another person had done them but using a different product). Some areas seem a bit clunky, but this may be par for the course with survey software. Everything seems to work when you get used to it.
Jim
Senior Director, Learning & Development en EE. UU.
Restaurantes, 5,001-10,000 empleados
Ha utilizado el software durante: Más de dos años
Been a Very Satisfied Customer for over 5 Years!
Comentarios: We used another Survey company for a decade before our needs outgrew it. I wish I could tell you we evaluated several different companies before selecting Question Pro, but we did not. As soon as we came across Question Pro and tested it out, we knew it was right for us. We don't use Question Pro to gather external information from Customers. We use it to capture internal information from our Managers and Employees and get that information to the appropriate people at the appropriate time. Some examples of how we have leverage Question Pro: (1) to gather employee satisfaction data; (2) to gather HR information from employees who request Leave or want to communicate concerns; (3) to provide trainees the opportunity to give feedback on their onboarding & training experiences; and (4) to communicate payroll adjustments directly to the payroll team. The Customer Service Reps we have worked with have been excellent and able to help us when needed. The Live Chat function has also been valuable when we needed a quick answer.
Puntos a favor:
1. The Customer Service has been outstanding - whether directly with my rep or through the Live Chat. 2. The ease at which Survey's can be created / copied. 3. The system is user-friendly enough that we have been able to figure out how to perform many advanced functions on our own. 4. The flexibility of being able to send the survey in many different ways - i.e. via a link, to a specific email list or using a QR Code. 5. Advanced Logic and Branching allows us to link surveys based on answers and ensure the completed information gets into the hands of the right people at the right times. 6. The ability to schedule auto-run reports.
Contras:
1. Having to pay full price for each user account is a bit prohibitive and would ultimately be the only reason we would ever consider a new system. However, we were able to lock in a rate for 2 years the last time we renewed by signing up for 2 years. 2. The lack of flexibility in formatting the Excel Reports - too many columns show on the reports by default and we can't remove those columns we don't need.
Marco
Mathematician en Costa Rica
Estudios de mercado, 2-10 empleados
Ha utilizado el software durante: Prueba gratis
Alternativas consideradas:
My free trial with QuestionPro
Comentarios: QuestionPro has a lot of potential, they just need to fix the problems that I mentioned and then it might be the best software in the industry.
Puntos a favor:
The software has a very good concept as a whole, it's giving you the right and important tools for your surveys and polls, it shows the data live, you can filter it and export it to excel. The surveys and polls creator is very user friendly and very professional, you can create some very beautiful polls and surveys.
Contras:
- You can't color the graphs as you like, if you want to do it, you need to change it with CSS, so if you don't have the CSS knowledge, you just can't change the colors. - To save the graphs you need to do a print screen, there's no way to export them to your computer. - The weighting tool is broken and not calculating well. - There were some reports during our campaign of a very slow loading times, which cause some respondents to stop respond to the poll in the middle. - The customer service is pretty horrible and not responding, unlike what they claim, nobody answers the live chat, so if you need something very urgent, you need to call them, but it's not sure that they would solve the problem.
Mark
Executive Director en EE. UU.
Usuario de Linkedin verificado
Gestión de organizaciones sin ánimo de lucro, 2-10 empleados
Ha utilizado el software durante: Más de dos años
Powerful survey software
Comentarios: It has been great. They do make you jump through a couple hoops each year but, in the grand scheme of things, very minimal.
Puntos a favor:
QuestionPro is great software for what we need. We initially got it because we wanted something that could run offline and on tablets and then be synced at a later time. We ended up not using that use case but have continued to use it for our intake form. It is great because it is very easy to customize question and add and format as necessary. It is a little bit of overkill for what we need but we'll take it. Since we're a non-profit, they offer a price that cannot be beat (FREE - with a little work). There are a lot of great software products that we could use but don't because they cost a lot and we don't have the manpower to properly utilize them. QuestionPro realizes this and provides non-profits their software for free (like Google does). Truly trying to help the charitable community!
Contras:
For what we use it for, there is nothing that I really dislike. I would say it may be a little complicated for our needs. It is also a little industrial as opposed to some other solutions that are more consumer centric. But those a far outweighed by the features and value of the product.
Colleen
Program Director en EE. UU.
Servicios individuales y familiares, 2-10 empleados
Ha utilizado el software durante: Más de dos años
Alternativas consideradas:
Gets the job done
Puntos a favor:
We have used QuestionPro exclusively as a survey tool for program participants to evaluate a class or webinar they attended. The features are simple to use once you have things set up, and sharing the survey results with others works very well. As a small nonprofit, we appreciate QuestionPro offering an option that fits our budget to capture a lot of helpful data to measure program success.
Contras:
Some features take a bit of time to figure out. And changing interfaces have recently made it more difficult to find how to do something that was previously easy to do.
Respuesta de Question Pro
hace 6 meses
Hi Colleen, Thank you for your review! We appreciate your feedback and your usage! Please let us know if there is anything we can do to help!