¿Qué es PracticePanther Legal Software?
Únete a uno de los software legales con mejor calificación en Capterra. Conoce por qué decenas de miles de bufetes de abogados en más de 170 países usan PracticePanther para automatizar sus flujos de trabajo y hacer más en menos tiempo. Nunca te olvides de ningún vencimiento, recibe pagos más rápido mediante la facturación con un solo clic y realiza un seguimiento del tiempo y los gastos facturables. Trabaja desde cualquier lugar y dispositivo, con las aplicaciones móviles. Es simple, fácil de usar e intuitivo. Ahora puedes pasar menos tiempo administrando tu bufete y más tiempo ganando dinero. Obtén tu prueba gratis; no se requiere tarjeta de crédito.
¿Quién usa PracticePanther Legal Software?
Decenas de miles de profesionales independientes, bufetes pequeños, medianos y de gran envergadura en todo el mundo que no desean pasar horas en seminarios web de capacitación. Software simple para el abogado moderno.
¿Dónde se puede implementar PracticePanther Legal Software?
Cloud, SaaS, Web, Mac (desktop), Windows (desktop), Linux (desktop), Android (móvil), iPhone (móvil), iPad (móvil)
Sobre el proveedor
Paradigm
Ubicado en North Miami Beach, EE. UU.
Fundada en 2006
Asistencia telefónica
Asistencia 24/7
Chat
precios de PracticePanther Legal Software
Precio inicial:
USD 39.00/mes
Sí, ofrece una prueba gratuita
Sí, ofrece una versión gratuita
PracticePanther Legal Software dispone de una versión gratuita y ofrece una prueba gratis. La versión de pago de PracticePanther Legal Software está disponible a partir de USD 39.00/mes.
Sobre el proveedor
Paradigm
Ubicado en North Miami Beach, EE. UU.
Fundada en 2006
Asistencia telefónica
Asistencia 24/7
Chat
Imágenes y vídeos de PracticePanther Legal Software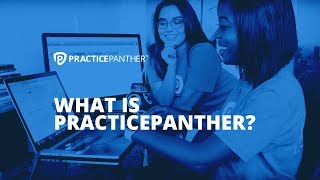 Comparar el precio de PracticePanther Legal Software con productos similares
Funciones de PracticePanther Legal Software
Alertas y notificaciones
Almacenamiento de documentos
Aplicación móvil
Base de datos de contactos
Búsqueda de texto completo
CRM
Calendario de personal
Captura de documentos
Contabilidad
Contabilidad fiduciaria
Controles o permisos de acceso
Creación de documentos
Creación de informes en tiempo real
Creación de informes/análisis
Cálculo y validación de gastos
Facturación
Flujo de trabajo de aprobación
Gestión de bancarrota
Gestión de calendarios
Gestión de casos
Gestión de clientes
Gestión de clientes potenciales
Gestión de contactos
Gestión de contratos o licencias
Gestión de correo electrónico
Gestión de documentos
Gestión de empleados
Gestión de facturas
Gestión de impuestos
Gestión de la conformidad
Gestión de recibos
Gestión de tareas
Gestión financiera
Gestón de procedimientos jurídicos
Herramientas de colaboración
Importación y exportación de datos
Informes personalizables
Integración contable
Libro general
Notas de caso
Para abogados
Para derecho de familia
Para profesionales jurídicos
Portal de clientes
Programación basada en el reglamento judicial
Recordatorios
Redacción de cheques
Seguimiento de actividades
Seguimiento de estado
Seguimiento de gastos
Seguimiento de interacciones
Seguimiento de progreso de tareas
Seguimiento del proyecto
Seguimiento del tiempo
Seguimiento horas/gastos
Sistema de calendarios o recordatorios
Alternativas a PracticePanther Legal Software
Opinones de PracticePanther Legal Software
Scott m. W.
Lawyer en EE. UU.
Usuario de Linkedin verificado
Práctica de la abogacía, Trabajador autónomo
Ha utilizado el software durante: Más de dos años
Amazing program!
Comentarios: I bought this program when I first opened my practice about 2.5 years ago. I knew going into my own firm that I wanted a comprehensive client management tool. After spending hours online reviewing various programs, I decided to give the 30-day free trial a shot. I think I purchased the monthly subscription immediately after starting to use the program. Since that time, I have built on my knowledge, incorporating the MailChimp and QBO features first, then started learning how to streamline my document preparation through the template feature. What would have previously taken me multiple hours a week to manage, now takes minutes.
Puntos a favor:
PracticePanther is intuitive and very user friendly. It has a ton of features that expedite minuscule tasks and free up admin time. It syncs with all my favorite resources, like QBO, MailChimp, and Box, making communication with clients a lot easier and keeps routine mailings operational. If you use a lot of form templates, the template builder is a major time saver and cuts down on user error and oversights. I use this program every day in my law office and am very grateful for how easy it is. Even better, the customer support team is phenomenal. I rarely have any issues with the program (it is easy to use), but when I run into something I need help with, a quick message to the PP team is responded to within minutes and the problem is solved or at a minimum I am given an update and expected time of completion. I couldn't recommend this program more to a solo or small legal practice.
Contras:
Nothing, the team is constantly updating its software and programs that it connects to. They provide online videos to help and I frequently learn of new ways to use the program from regular updates by the team.
Respuesta de PracticePanther Legal Software
hace 4 años
Thank you so much Scott for the extra kind feedback!
James H.
Principal en EE. UU.
Práctica de la abogacía, 2-10 empleados
Ha utilizado el software durante: Prueba gratis
Alternativas consideradas:
Great practice management software. The only short-fall is that it doesn't allow auto future billing
Comentarios: PracticePanther is a great platform and you should definitely give it a good try during a free trial period.
It also has Rules of Court deadline figuring if you're a Civil firm.
PP has great integration with QuickBooks on-line.
You can print checks directly from PP, or QB online to pay other legal vendors (Chiros, etc.)
Puntos a favor:
Price - either $59/mo or $49/mo if paid the year in full. Fee to bill clients on-line: $.20 per transaction plus 1.95% Workflow customizable - Yes, you can customize the workflow on different case-types. Activity Log - easy access history. Create Contact on the fly as creating matter - easy to create a Contact during the process of creating a matter. Intake form for new clients - Yes, can put a link on your website so new clients can fill-out a new client form, and that info will auto fill into the client's PP account. Time tracking timers - you can have multiple different timers open and running at the same time and assign them. Mobile App - there is no mobile App, but the site is mobile optimized. E-file integration - there is No e-file integration. Color assignments - there are up to 6 colors that you can assign to parties & roles. Task customizable - Yes, you can customize task flows. Easy to create and merge documents - Yes, it's very easy to create and merge documents with the program. PDF-auto convert - No, it cannot auto PDF convert a document. Create documents that can merged - Yes. This program makes it easy to create documents that can be merged. Support - Yes, support seems to be free. Notify client when upload a document - Yes, you can notify a client a document gets uploaded that you want them to review or be aware of. Email syncing - very good syncing with Gmail and Outlook. Emails linked to a matter - Yes. Easy to link emails to a matter. Client Portal - Yes.
Contras:
The only thing that kept me from staying with PracticePanther, is that MyCase allows you to be able to set future billing to go out to a client(s) and forget it. PracticePanther has a bit of a 'workaround' if you get the client's Visa/Debit card on file, but many times clients are uneasy giving you their card number. With Criminal Defense clients that need to make monthly (or future) payments on a retainer amount, MyCase allows you to set-up future dates where a client will be emailed a bill, which they can tap on a button and pay on-line. This is the main thing that made me go with MyCase. But if not for that, I would have stayed with either PracticePanther or Smokeball. Smokeball had/has the slickest software for being able to send emails from (either) Outlook or Gmail, and a small window at the bottom allows you to connect that email to a matter. Smokeball's software also made/makes it very easy to sync a Word document with a Client/Matter.
Michael M.
Managing Attorney en EE. UU.
Práctica de la abogacía, 2-10 empleados
Ha utilizado el software durante: Más de dos años
After years of begging them for real fixed price billing, I'm giving up.
Comentarios: It was a good start to law firm management, now I need something that works like a law firm needs to work, not force my law firm to work like the software wants me to.
Puntos a favor:
It's easy to learn the basics. The calendar is good, it's helpful that they show tasks there. Searching is great. It's totally adequate if all you do is bill for time and integrate with Quickbooks.
Contras:
Panther has no report on Items (e.g. how much of your revenue is from Document Drafting vs Litigation). To get such a report, you MUST integrate with Quickbooks. But the biggest problem is that Fixed Price billing (what they call "Flat Fee") is worthless. Fixed Price billing was clearly an afterthought, and their implementation has not changed at all since the early days when I started using it: 1) It does not let you assign an Item as you can with time entries, so you can't easily tell Quickbooks that a Fixed Price invoice was for a trademark application, not doc review; 2) You can't assign a lawyer to a Fixed Price billing, so you cannot get a report to help you pay everyone proportionally to their Fixed Price billings; 3) Fixed Price matters become immediately billable even if no work has been done, so you must manually keep track of when it's time to invoice for a Fixed Price matter, and there's no report on billable Fixed Price matters; 4) When entering time on a Fixed Price matter, there's way no way to check whether you are about to exceed the budget, and no way anywhere to compare budgeted vs actual. If you're a modern firm moving to fixed price as much as possible, you'll spend a LOT of time looking for work-arounds, and you'll find that implementing your work-arounds will chew up any time saving you might have gotten from using the rest of the software. I can't wait to change to software that does Fixed Price right.
Respuesta de PracticePanther Legal Software
hace 4 años
Hey Michael, thank you so much for you feedback. I just wanted to let you know that based on the feedback of our users, yourself included, we have implemented a NEW FLAT FEE pricing option. We are the ONLY ones in the market to offer this function! We understand that the needs of our firms are constantly evolving and we value the suggestions and feedback of all of our users. You can check out the guide published by our training department here: https://support.practicepanther.com/contacts-and-matters/getting-started/flat-fees-tutorial Furthermore, visit our updates page for past and future releases. https://www.practicepanther.com/law-firm-practice-management-software/ Thanks for being a valued customer from the beginning!
Tara C.
Partner en EE. UU.
Práctica de la abogacía, 2-10 empleados
Ha utilizado el software durante: Más de un año
Beats Clio by a mile
Comentarios: Its been great, the customer service is responsive and helpful, the software works across all of our devices and platforms, so we've always got it at fingertips.
Puntos a favor:
Easy to set up and use, easy to integrate third party apps like Google Drive and Quickbooks.
Contras:
The workflow automation has a bit of a learning curve if you've never done it before. Highly suggest watching the tutorials.
Brenda S.
Legal Assistant en EE. UU.
Práctica de la abogacía, 2-10 empleados
Ha utilizado el software durante: 6-12 meses
Alternativas consideradas:
Love PracticePanther
Comentarios: This software has saved us time on the tasks that would take a long time like creating letters or pleadings as they are automated now. Since the information pulls from the fields there is also a very low risk for typing errors.
Puntos a favor:
Super easy to use! We love that we can create custom fields for a contact or matter and have really enjoyed the automation portion of the software. The templates are easy to create and automatically pull the information from the contact and matter sections that we need.
Contras:
Under Matter, instead of editing the whole section, it would be nice if I could hoover over the field I only need to update. I also wish I could highlight text in the matter or notes section. I create multiple matters under one client and some of the information in the fields is always the same. It would be nice if I could select an option so any time I create a new matter for that client, the information in the matter auto fills for any new case going forward.