¿Qué es ScreenCloud?
La señalización digital no tiene que ser complicada ni costosa. ScreenCloud te permite usar cualquier TV, iPad o tableta para transmitir tu mensaje de una manera atractiva. Programa, gestiona y carga contenido en tus pantallas con solo hacer clic en un botón, todo desde tu navegador. Muestra fácilmente tus últimas ofertas, comparte noticias de la empresa, presume de las redes sociales de tu marca y mucho más.
¿Quién usa ScreenCloud?
Este software puede ser utilizado por cualquier empresa u organización que desee comunicarse utilizando pantallas. Por lo tanto, podrían ser pequeñas negocios, empresas, startups, comercios minoristas, hostelería, lugares de culto, establecimientos educativos, etc.
¿Dónde se puede implementar ScreenCloud?
Cloud, SaaS, Web, Mac (desktop), Windows (desktop), Android (móvil), iPhone (móvil), iPad (móvil)
Sobre el proveedor
Por ScreenCloud
Ubicado en London, RU
Fundada en 2015
Asistencia telefónica
Chat
Sobre el proveedor
Por ScreenCloud
Ubicado en London, RU
Fundada en 2015
Asistencia telefónica
Chat
Imágenes y vídeos de ScreenCloud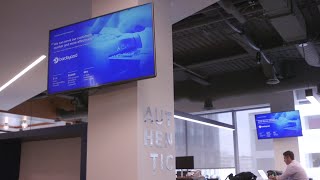 Comparar el precio de ScreenCloud con productos similares
Precio inicial
USD 24.00/mes
USD 35.00/mes
USD 10.00/mes
USD 49.00/año
Funciones de ScreenCloud
API
Acceso móvil
Acceso sin conexión
Actualizaciones en tiempo real
Actualización automática
Alertas y notificaciones
Arrastrar y soltar
Asistencia multimedia
Asistencia por vídeo
Biblioteca de contenidos
Biblioteca de imágenes
Calendario de eventos
Cartas de menús digitales
Compatibilidad con varias pantallas
Contenido interactivo
Control/Acceso remoto
Controles o permisos de acceso
Creación de informes y estadísticas
Creación de marca personalizable
Datos en tiempo real
Diseño y maquetación
Editor WYSIWYG
Editor visual
Firma digital
Gestión de contenidos
Gestión de la publicidad
Gestión de listas de reproducción
Gestión de modelos
Gestión de usuarios
Gestión de visualización remota
Gestión de vídeos
Importación y exportación de datos
Integraciones de terceros
Integración de redes sociales
Mediateca
Modelos personalizables
Notificaciones en tiempo real
Panel de actividades
Programación
Programación automatizada
Programación de campañas
Programación de contenidos
Registro de auditoría
Seguridad de datos
Streaming en vídeo
Supervisión
Supervisión en tiempo real
Varias ubicaciones
Widgets
XML y RSS
Fabian M.
Marketing and Communications Manager en EE. UU.
Usuario de Linkedin verificado
Administración educativa, 51-200 empleados
Ha utilizado el software durante: Más de un año
Real-Time automated Digital Signage
Comentarios: It allows real-time and automated information about events and happenings at our school.
Puntos a favor:
We use screen cloud to display live Twitter and Instagram feeds throughout our Campus. The interface is clean, easy to use and accessible via a web browser from everywhere. Lots of additional app integration are available and being added regularly. The Screencloud staff is very responsive and helpful. What I particularly like is the clean design of the displayed apps. It looks very professional.
Contras:
Ideally, I would like even more customization on the look and fell of certain apps. But overall there is nothing I dislike so far.
Cameron M.
Intern en EE. UU.
Logística y cadena de suministro, 51-200 empleados
Ha utilizado el software durante: 1-5 meses
Alternativas consideradas:
ScreenCloud is very easy to use and the customer service is great!
Comentarios: I enjoy ScreenCloud a lot. It livens up the workplace and is easy to use. The customer service was great and they seem to really care about their customers.
Puntos a favor:
When looking for a digital signage software, ScreenCloud was a little bit more expensive per screen than competitors, but in my opinion, a lot more easier to understand and use. Also, uploading your own videos and pictures is easy along with scheduling times for certain playlists. The customer service was also phenomenal compared to other software. I would email someone about a question, and then 30 minutes later I would have an answer! The team at ScreenCloud was very helpful and worked with us for a while in order to make sure we understood what we were buying and to help us understand all the different parts of the software.
Contras:
The canvas feature has limited customizability and the app store doesn't have a ton of new apps. Using internal links is also not possible at the time but it seems like other services also do not have that feature. However, from talking to customer support, it seems like they are working on new apps and improvements all the time.
Respuesta de ScreenCloud
hace 3 meses
Hi Cameron, thank you so much for leaving us a review. It's great to see the value you're getting from using ScreenCloud and it's always a nice boost for the team to see their efforts recognized. We strive to create a great experience for our users and always welcome feedback on how we can make further improvements. If you'd like to submit additional feedback, please reach out to our support team at support@screencloud.com
Steve K.
I.T.Manager en Canadá
Construcción, 51-200 empleados
Ha utilizado el software durante: Más de un año
A great product, but not competitive pricing
Puntos a favor:
We have used ScreenCloud for over a year. I always thought it was too expensive per screen. I had a need for a second screen to be added, and I came across OptiSigns. I reached out to ScreenCloud and asked about the second screen and if they could be competitive. I was told no. OptiSigns does the same thing as ScreenCloud, and even used our existing hardware (firetv stick), and is half the cost. At $10 per screen, it's a reasonable price for use to expand to more screens. So we switched.
Contras:
The cost was too high, and there are similar and better priced products available.
Mitch O.
Nunya en EE. UU.
Construcción, 501-1,000 empleados
Ha utilizado el software durante: 1-5 meses
Great potential but a lot still to develop
Comentarios: This is just used as our entry way marketing material. This has been more of a head ache than it should have been.
Puntos a favor:
Ease of use is a fact. I liked the layouts and basic idea of this product. That was about it.
Contras:
Needs more native apps. Not a very "smart" program (i.e. have pictures in a custom zone to a special size - this requires me to go back to marketing team to re-edit the photos down to what the app can handle. This should be done as part of the program to allow for overall easier use). While the support team is quick to respond, they missed the mark greatly in actually addressing the issues and are rather snarky when you point out the pitfalls of the program. There are misspellings in the warnings that pop-up throughout their app. It is all around a work in progress.
Respuesta de ScreenCloud
hace 2 años
Hi Mitch, this is Adam, the Head of the Support team at ScreenCloud. I'm really sorry you've been experiencing these issues. We take your feedback seriously, so thank you so much for taking the time to share this with us. We're always trying to improve our app and stay on top of an agile work environment and sometimes we don't meet the standards we want to achieve for our customers. Although we've built ScreenCloud to optimize your images to look at their best for your screens, in some cases you'll need to edit the dimensions of the image to capture the area you want to show the most. To make this easier, we've been developing a new app to help you do just that. We've also been revising our on-boarding experience to share the good practices as early as possible. I'd really appreciate it if we had a call to get to the bottom of this and also show you what we've been working on. I'll make sure to personally reach to you.
Runar I.
Systems engineer en Noruega
Construcción, 1,001-5,000 empleados
Ha utilizado el software durante: Más de un año
Affordable, easily scalable and easy to use Digital Signage!
Comentarios: We're very pleased to be able to distribute digital signage to multiple locations, with little effort in terms of implementation, as well as eliminating the need for on-premise or LAN management.
Puntos a favor:
Great support for most OS-types, low cost, versatile in terms of deployment, easy to use for users with basic IT knowledge. Cloud managed, only need local access to internet in able to manage a remote screen.
Contras:
Required the use of a credit card, at the time of acquisition. Invoice would be better suited to our needs.
Respuesta de ScreenCloud
hace 3 meses
Hi Runar, thank you so much for leaving us a review. It's great to see the value you're getting from using ScreenCloud and it's always a nice boost for the team to see their efforts recognized. We strive to create a great experience for our users and always welcome feedback on how we can make further improvements. I'll pass on your feedback about the acquisition payment process to our product team. If you'd like to submit additional feedback, please reach out to our support team at support@screencloud.com