BigChange
¿Qué es BigChange?
JobWatch es un sistema integral para planificar, administrar, programar y hacer un seguimiento de las operaciones de tu mano de obra móvil y transporte. Reemplaza la planificación manual y el
Leer más
papeleo, proporcionando una manera simple y eficiente de mantener tu oficina en total sincronización con tus equipos móviles. Ve de la cotización a la factura con una única plataforma que vincula tu parte administrativa, trabajadores móviles y clientes en perfecta armonía. No importa el tamaño o sector; JobWatch cambiará positivamente la forma en que trabajas.
Mostrar menos
¿Quién usa BigChange?
JobWatch se utiliza en más de 60 industrias, como servicio externo, climatización, plomería, transporte y logística, construcción, residuos, sector público y alquiler de equipos. Pídenos un estudio de caso en tu sector.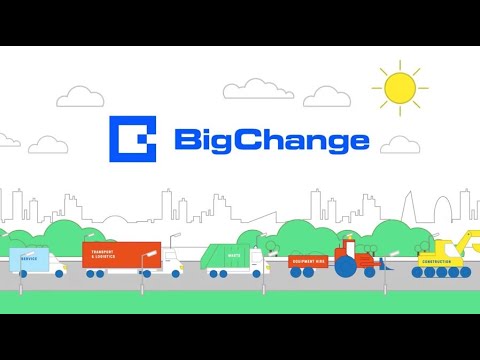 ¿No estás seguro sobre BigChange? Compara con una alternativa popular
Versión gratuita
Prueba gratuita
Versión gratuita
Prueba gratuita
¿Por qué estoy viendo esto?
Tanya
Operations Manager
Usuario de Linkedin verificado
Servicios para instalaciones, 51-200 empleados
Ha utilizado el software durante: Más de un año
Great Product
Los subtítulos en español están disponibles en el reproductor de vídeo
vicky
Office Manager en RU
Construcción, 2-10 empleados
Ha utilizado el software durante: 1-5 meses
Big Change - Good System once you get the hang of it but hard to learn and quite time consuming.
Comentarios: I am feeling better about it now but initially this is very hard for anyone to set up within a business that has their own job that they also need to do. The short videos take forever as you need to rewatch, then you have your test and then you have to try and Implement what you have just watched. If you forget a part of it or it doesn't make sense you have to go back to the video again. Very Hard Work and Extremely time consuming. What would be better is that everything is set up in the back office by big change and then training is provided to the customer on how to use it.
Puntos a favor:
I like the Scheduling feature once the jobs are on. Very easy to schedule and reallocate jobs when you need to. I also like the Easy Views - This is one of the most helpful sections of the system.
Contras:
Having to create a Customer site (Child Company) for every new job you get and then creating a new job especially when you may never work at that site again. would be much easier quicker and convenient if you could free type the site address in. The training side of it I have to admit is awful. It has taken me so long to get where I am now and most of that has been my time sat playing around with the system - The training videos are too fast, it skips parts out or assumes you know where exactly you are meant to go on the system to do or find something, or it says this part will be covered in another module. A guide for logging a customer - Guide for Logging a Customer Site - A Guide for inputting a job - A Guide for raising an Invoice would be so much better than trying to watch a video take notes and then try and remember how to do it, Esp as customers are expected to input and set up everything virtually within the system. MAPS - It would be helpful if it would advise how many miles away the engineer is until he reaches his destination. JOBS / INVOICES - Once the Jobs or Invoices are complete you can't amend any of the details this is very annoying as you are having to duplicate everything and then save any pictures etc and worksheets and move them over to the next one. ALSO the description you type when raising the job. If you make a spelling mistake and the Job is complete you can't correct this field - This is then on the customers Invoice.
Respuesta de BigChange
hace 4 meses
Hi Vicky, Thank you so much for taking the time to leave a detailed review. I am glad that you are making use of BigChange and if you need any further help please let me know and I can have your designated Customer Success representative can help. Many thanks Ian Burgess Chief Customer Officer ian.burgess@bigchange.com 07879 698697
Iain
Managing Director en RU
Maquinaria, 2-10 empleados
Ha utilizado el software durante: Más de dos años
Alternativas consideradas:
SVS using Big Change Job Watch Software
Puntos a favor:
Scheduling, quoting, vehicle tracking functions and word templates. Also reports, automation and central access of information available to all back office users. The tablets are get for mobile workforce and easy to use; makes paperwork and filing easy and efficient to manage, syncing all information instantly and traceable.
Contras:
It is a complex system, you need to build up and invest time to explore, setup and implement - overcoming challenges until you get it right and it works for you/ company, that period can be stressful. Also in house for training users is demanding. Stock module could be improved, enabling stock usage deducted from stock holding without manual process.
Respuesta de BigChange
hace 2 años
Thank you for your detailed review - it is really appreciated. As it is very feature rich there is a lot to learn as you roll out the system to your teams . Since you joined us we have introduced our BigChange University - a rotation of training modules which covers the system end to end and is available to customers old and new. Additionally we have big plans for our Stock and Equipment feature so look out for announcements on Latest Updates. Thanks again!
Ryan
Office Administrator en RU
Servicios medioambientales, 51-200 empleados
Ha utilizado el software durante: Más de un año
Job Watch
Comentarios: Big Change Job Watch has enabled us as a company to run more efficiently and the customer service side of the business has been very helpful.
Puntos a favor:
The process of setting up the software was much easier than expected and using the system to match our existing work sheets and procedures was very easy to do. The system allowing us to see everything as it is happening has had a massive impact on our business. We can now invoice quicker because we can see straight away if a job has been completed without having to make phone calls to our operatives. Getting live data from vehicles has allowed us to track mileage much easier and help us monitor our vehicles much more efficiently. The planner allows you see if the work you are giving your operatives is realistic.
Contras:
On the fleet section it gives you columns for when Services, Mot, tax etc are due, but we are unable to add to this column, we have other things for our vehicles that we need to book in but we have to keep track of this another way off the system.
Respuesta de BigChange
hace 2 años
Thank you for your review - it certainly sounds like you are enjoying the benefits of your BigChange JobWatch system. We will call you to discuss adding custom fields to vehicle records. Meanwhile I will add your suggestion for adding additional information in our Fleet tab into our suggestions portal on your behalf. Please make sure to check out our regular Latest Updates on your site as we frequently add new functionality to progress our platform. Thank you again, Your feedback is appreciated.
Alexandros
Sales en Chipre
Seguridad e investigaciones, 11-50 empleados
Ha utilizado el software durante: 6-12 meses
From ''No Change'' to ''BigChange''
Puntos a favor:
We were increasingly worried, as the company was growing, jobs were increasing. By 2018, we were averaging over 500 jobs a month, these jobs, had to be assigned to a Technician according to his skill and geographical position of the customer. Everything was on an excel spread sheet that had to be kept safe and readable, as it was the whole business schedule. And now this is a True story called Big Change today The Paperless way to Plan, Manage, Schedule and Track your Mobile workforce How our daily routine for all of us has changed. Incoming calls are scheduled to the perfect available Technician, which meets the job requirements automatically. Jobs are received instantly on a tablet, and our technicians have all the information needed to deliver fantastic service, with no delays. They can also view customer previous job history; we can upload file attachments, such as sales orders, Invoices & Floor Plans for them to access at ANY time. My Back office is connected LIVE at all working hours, and my after-sales coordinator knows the exact location and progress of each job. While technicians are on-site, they have all the required worksheets in digital form and those are completed simply by tapping on the screen. We even automatically guide them step by step through the workflow. After completing the job, the process is confirmed with the customer's signature. The customer then receives a copy of the JOB CARD & WORKSHEETS automatically without any delays.
Contras:
Big CHANGE Desk This is Handys Today ∙ Environmental Friendly (no paper use) ∙ saving cost of Paper, printer and toner expenses ∙ 2 extra jobs completed per day technician ∙ Automatic Time-Sheet ∙ 24 hours of Admin saved per week ∙ 15 % Fuel saved per month ∙ 1 hour per day traveling time saved per technician ∙ No Incomplete jobs ∙ The customer received clear information of work carried out instantly
Construcción, 11-50 empleados
Ha utilizado el software durante: Más de dos años
Alternativas consideradas:
Big Change Revolutionised My Business
Comentarios: I have dealt with all levels withing the business and found 99% of the people amazing to deal with! They have guided, trained and been far more accommodating then any other mobile resource software provider out there.
Puntos a favor:
The facility to invoice live and make cash flow through the business improve.
Contras:
The schedule does not have dynamic scheduling
Respuesta de BigChange
hace 3 años
Delighted to hear about your amazing experience with the BigChange system. We designed it to be 'Revolutionary' for everyone, for you the business owner, for your team for your customers and your cashflow. Nothing gives us more satisfaction than hearing great success stories like this. Thank you once again for taking the time to leave a review. All the best, Team BigChange