¿Qué es Nexvia?
Nexvia es un sistema de gestión de proyectos basado en la nube y diseñado por líderes del sector de construcción, interiores y fabricación. Este software incluye herramientas para realizar estimaciones y licitaciones, gestión de proyectos, gestión de relaciones con los clientes, proyecciones financieras y mucho más. Nexvia garantiza que cada pieza de información crítica se rastree, almacene y sea fácilmente accesible para ti y tu equipo. Controla múltiples proyectos y colabora con visibilidad en todos los proyectos.
¿Quién usa Nexvia?
Nexvia está diseñado para empresas de equipamiento hogareño, contratación de especialidades, ebanistería, fabricación y construcción de Australia y Nueva Zelanda.
¿Dónde se puede implementar Nexvia?
Cloud, SaaS, Web, Mac (desktop), Windows (desktop), Android (móvil), iPhone (móvil), iPad (móvil)
Sobre el proveedor
Nexvia
Ubicado en Brisbane, Australia
Fundada en 2004
Asistencia telefónica
Asistencia 24/7
Chat
Países disponibles
Australia, Nueva Zelanda
Sobre el proveedor
Nexvia
Ubicado en Brisbane, Australia
Fundada en 2004
Asistencia telefónica
Asistencia 24/7
Chat
Países disponibles
Australia, Nueva Zelanda
Imágenes y vídeos de Nexvia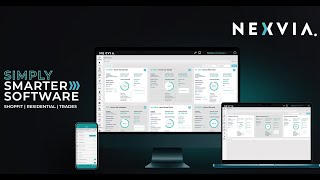 Comparar el precio de Nexvia con productos similares
Funciones de Nexvia
Acceso móvil
Análisis hipotéticos
Base de datos de costes
Base de datos de subcontratistas
Base de datos histórica
CRM
Contabilidad de acreedores
Contabilidad de deudores
Costes de trabajo
Creación de informes/análisis
Edificios residenciales
Ensamblaje visual
Estimaciones
Estimación de costes
Facturación
Generación de propuestas
Gestión de contactos
Gestión de contratos o licencias
Gestión de control de horas
Gestión de documentos
Gestión de ideas
Gestión de inventarios
Gestión de la seguridad
Gestión de ofertas
Gestión de permisos
Gestión de presupuestos
Gestión de proyectos
Gestión de recursos
Gestión de subcontratistas
Gestión de tareas
Gestión de trabajos
Gestión de órdenes de cambio
Gestión de órdenes de compra
Gestión del pipeline de ventas
Herramientas de colaboración
Integración contable
Modelos personalizables
Planificación y programación de proyectos
Portal de clientes
Presupuestos y estimaciones
Presupuestos/previsiones
Programación
RFI y envíos
Registro de auditoría
Seguimiento costes hasta finalización
Seguimiento de clientes
Seguimiento de conceptos facturables
Seguimiento de creación de informes y proyectos
Seguimiento de cualificación
Seguimiento de equipos
Seguimiento de gastos
Seguimiento de porcentaje de progresión
Seguimiento de presupuestos/Costes de trabajo
Seguimiento del proyecto
Seguimiento del tiempo
Seguimiento horas/gastos
Tablero kanban
Uso compartido de archivos
Vista de Gantt/cronología
Tristan T.
Managing Director en Australia
Usuario de Linkedin verificado
Construcción, 11-50 empleados
Ha utilizado el software durante: 1-5 meses
Customer Support is what sets Orbis apart.
Puntos a favor:
It brings all parts of the business together in one place. We can immediately see what we will make form each project and manage expenses as the project progresses, we can then review each project once completed and get all cost and profit information easily. The customer support has been amazing the team has traveled to meet wiht us and they are always available to us either on the phone or email.
Contras:
Like any new software system it takes a while to learn and change what you are doing this system is no different especially with so many moving parts. The time tracking of employees is a little clunky and the ability to report and follow up on tenders is taking a while to learn. To the teams credit at Orbis they are happy to change add and grow the system whey they see a good idea or a better way to do what they have been doing, they have done this several times for us.
Respuesta de Nexvia
hace 4 años
Hi Tristan, Thank you for your feedback. Now that Xero Payroll is integrated with the system, this process should be easier for you and the team moving forward. We've also recently added new features to time tracking such as QR code scanners. If we can provide additional training or support in these areas please let us know at support@nexvia.com.au. Team Nexvia
Ben I.
Chief Operations Officer en Australia
Usuario de Linkedin verificado
Construcción, 11-50 empleados
Ha utilizado el software durante: Más de un año
An amazing product and team!
Comentarios: Its been an excellent experience to date. I highly recommend their product.
Puntos a favor:
A key requirement from our Project Management software was that it would allow for all functions to be undertaken in the one platform as opposed to using multiple platforms to achieve the same end result. The key benefit of this being efficiency and accuracy. I undertook considerable research to find the best software that would allow an 'all encompassing' Project Management Solution for our business, from quotation to completion. After shortlisting other software and undertaking trials, it didn't take long to see that Orbis was the correct decision. It had a lot of features and modules that are all linked within the platform software and provides a 'near complete' solution. Whilst it did not have all of the features that we required initially, the development team at Orbis have been great in accommodating upgrades and new functions that allow for a continued improvement to our business operation. They are a great team with a great product, a winning combination.
Contras:
As it touched on briefly above, the software is a 'near complete' solution. This is only the case as it is continually being developed/improved. The ongoing development is in fact a pro though i have raised this in the con section as it is an acknowledgment that whilst the product is already great, it will be even greater as development continues. The development team listens to the feedback provided and either offers a current solution that may exist in the software or provides an insight into what features can be added to achieve a complete solution. A perfect example of this is that we schedule tasks to up to 20 staff currently each day. When we committed to using Orbis a function did not exist within the software. The team at Nexvia listened to our requirement and have since developed a Resource Scheduling module that now allows us to complete this task within Orbis. I estimate that Orbis currently meets 90%-95% of a 'complete' Project Management solution and with continued development this is moving closer to 100% each week. Its noted that most other software systems that were trialed only achieved up to approx. 60% of a complete solution.
Respuesta de Nexvia
hace 3 años
Hi Ben, Thank you for your review, we appreciate your feedback and are glad you enjoy using Nexvia. Look forward to sharing more of our updates with you and the BIM team soon! Team Nexvia
Judy H.
Administration Manager en Australia
Ha utilizado el software durante: 6-12 meses
Nexvia have been on hand every step of the way
Puntos a favor:
For the administration team, the processing of both supplier and third party invoices is easy and being able to link the documents to the project has made searching much easier.
Contras:
Administratively, there are some common errors made by the Administration Team but we are unable to fix them ourselves, we have to contact the Nexvia team to undo the error. We believe they are working on giving us access to be able to undo these errors ourselves.
Respuesta de Nexvia
hace 4 años
Hi Judy, Thank you for your feedback. We have passed this onto the integration team for review & someone will be in touch shortly. As always, we are continuously striving to improve our usability for our clients so if you have any other queries or concerns please let us know. Team Nexvia
Alex P.
Contracts Administrator en Australia
Construcción, 51-200 empleados
Ha utilizado el software durante: 1-5 meses
Orbis streamlines the administrative tasks of project management into an easy to use web browser.
Comentarios: Orbis allows you to move through the monotony of administrative tasks at a breeze. Creating a tender is a simple data entry task. A scope of works is generated and automatically generated templates mean easy and simple tender submission document preparation. This is seamlessly shifted to a project staging area, following a reassuring, easy point and click approval process. From the project management area you can check and agree negotiated budgets that have come from tender, raise your purchase orders with ease, attach quotations received to each tender budget allowance and track live job costs. There are other management features including a platform to produce a program of works, a document control center where you can upload all project related documents, as well as automatically generating a drawing register as you upload plans. Variations and Request for information can be generated online and issued to your clients or contractors as simply as ordering a fast food take away from your tablet. Site records can be directly inputted, from site register, health and safety audits, photos and videos of site progress and site induction register records. Arm your site foreman with a smart phone and you can get these uploaded daily and on file, accessible anywhere so long as you have a Wifi connection or some data to log on to Orbis. You can also give your client access (at your discretion) to the contract program, variations, RFIs and there is a tool to enable you to produce client reports. This gives your client the satisfaction of being able to login and monitor the progress of his project. You can track and sign off defects using simple data entry techniques. Again, because its online, those contractors responsible for attending to defects have access to photos and reports that you can easily upload. You can genuinely manage a project from inquiry to sign off of defects from this one online platform. It streamlines the administrative day to day tasks of project management into an easy to use web browser format. It also essential to highlight that the customer support staff are friendly and proactive. Even willing to incorporate/modify features up on request. Orbis is definitely worth the investment of time and money to incorporate into your operations. It will save time and effort in the long run and help to keep you in control.
Puntos a favor:
Log on anywhere online and manage your projects. No need for large data Storage.
Contras:
You have to get your contractors to buy into using the system. It can take a little persuasion but once they are on board you can use to its full potential!
Respuesta de Nexvia
hace 4 años
Hi Alex, Thank you for your review, we appreciate your feedback and are glad you are enjoying the use of our Orbis Pro software. Look forward to sharing more of our updates with you soon. Team Nexvia
Mikaela W.
Business Director (Interim) en Australia
Diseño, 2-10 empleados
Ha utilizado el software durante: Más de un año
The key to managing our projects in one centralised location
Comentarios: Our experience with Orbis Pro has been extremely positive. Previously we had very little process for Collectivus and with numerous spreadsheets & communication outlets things were getting missed or translated incorrectly. Now with Orbis Pro implemented, we can centralise all parts of the business in the once place to ensure consistency across our design works.
Puntos a favor:
Orbis Pro brings all parts of Collectivus together in one place. The Nexvia team customised Orbis Pro to suit our needs, allowing us to quote our jobs and then track & manage our hours and expenses against each project. Here we can see exactly what we are making from each job and identify trends for future projects to better our processes. Orbis Pro also makes invoicing and tracking payments super simple!
Contras:
Adapting to Orbis Pro was a challenge for team members at first however with the on-going support and guidance from the Nexvia team, it is now second nature.
Respuesta de Nexvia
hace 4 años
Hi Mikaela, Thank you for your review, we appreciate your feedback and are glad you enjoy using our Orbis Pro software. Look forward to sharing more of our updates with you soon. Team Nexvia