ELMO Software
¿Qué es ELMO Software?
Fundada en 2002, ELMO (ASX: ELO) es la única solución integrada de recursos humanos y nómina en la nube de Australia y Nueva Zelanda, que ofrece un proveedor, un panel de control y experiencia de
Leer más
usuario. Somos la empresa de tecnología para RR. HH. de más rápido crecimiento en la región. Se proporciona tecnología innovadora de recursos humanos y nómina en la nube a más de 1000 organizaciones en todo APAC. Las diversas soluciones de recursos humanos y nómina de ELMO se pueden usar juntas o de manera independiente y se pueden configurar para los procesos y flujos de trabajo de tu organización.
Mostrar menos
¿Quién usa ELMO Software?
Más de 500 organizaciones australianas y neozelandesas en diversas industrias; entre ellas, gobierno, sector corporativo, finanzas, educación, organizaciones sin fines de lucro, comercio minorista, hostelería, tecnología de la información, minería y fabricación.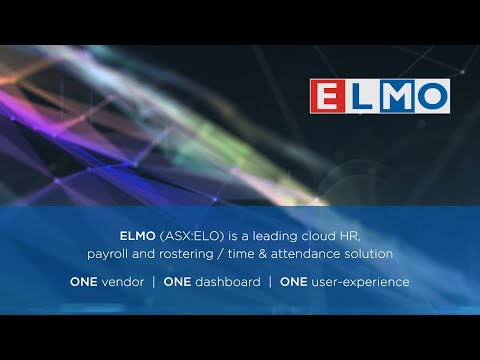 ¿No estás seguro sobre ELMO Software? Compara con una alternativa popular
No se han encontrado precios
Versión gratuita
Prueba gratuita
Versión gratuita
Prueba gratuita
¿Por qué estoy viendo esto?
Alternativas a ELMO Software
Opinones de ELMO Software
Kseniya
P&C Director
Usuario de Linkedin verificado
Salud, bienestar y deporte, 51-200 empleados
Ha utilizado el software durante: Más de un año
ELMO HRIS: Review Snap-shot
Los subtítulos en español están disponibles en el reproductor de vídeo
Katie
Capability & Engagement Manager en Australia
Vino y licores, 201-500 empleados
Ha utilizado el software durante: 6-12 meses
Alternativas consideradas:
Very happy with the software and the service offered by ELMO
Puntos a favor:
The implementation was seamless and the staff at ELMO go over and above to ensure you get the most out of the system. We have gained the most benefits out of the Onboarding, Learning & Performance modules.
Contras:
Some limitations in the rostering software but ELMO are very proactive in continuously developing and improving the software
Respuesta de ELMO Software
hace 8 meses
Thanks for a great review, Katie! We love to hear that you have found ELMO's Implementation team and cloud-based solutions helpful to your oranisation. We look forward to continuing to support your business. Kind regards, ELMO Team
Frank
Learning & Development Manager en Nueva Zelanda
Servicios financieros, 201-500 empleados
Ha utilizado el software durante: 6-12 meses
Great overall quality of platform for money spent with good customer service and support throughout.
Comentarios: Centralised HR Platform where we can design, manage and report on the three critical people stages for us in our business, which are Recruitment, On-boarding and Learning.
Puntos a favor:
I think the ease of use and implementation of each of the three modules we currently have; recruitment, on-boarding and learning (including course library) is the main benefit for our business wanting to design and deploy learning modules quickly to our employees, but also makes it easier to implement best practice processes for these which improve workplace efficiencies in how we manage our most important resource, our 'people' component. The features and functionality of the learning management system I think are really seamless and useful in getting learning modules quickly and effectively produced for our network, so then we can data-mine on this for reporting purposes and auditing. Having nearly everything automated and available in the end-to-end process of HR, makes it extrememly beneficial for a business to manage the processes and have one portal with all the critical information gathered into. In addition, since the system is a cloud-based software and being client-centric, when we have enhancements to voice, the ELMO Team consider these for future changes and iterations of the platform, making it better and evolving it out for the clients it's designed for.
Contras:
The ELMO Survey tool and functionality requires some further enhancements to be made to ensure that it provides more granular data for clients (e.g. like Survey Monkey's design), as this will assist us in drilling down further with certain users/learners of the portal to see for example, how long and how many attempts they take for completing compliance modules etc.
Helen
National HR Manager en Australia
Servicios para instalaciones, 501-1,000 empleados
Ha utilizado el software durante: 6-12 meses
Change your life with ELMO
Comentarios: Time to Onboard has been dramatically reduced and is now no longer a labour intensive process.
I am looking forward to providing meaningful reports to the business.
Puntos a favor:
This software is so simple to implement and once implemented it has saved myself and other managers so much time. In particular having project based work our Onboarding process has become so streamlined now we can onboard high numbers of employees at the same time. As a Performance Appraisal system we found ELMO easy to develop and roll out. Our company had not been keen on Performance Appraisals in the past but ELMO was so well embraced we had 100% update on the first appraisal round. We also find the more you use the system the more proficient you become. The support provided by ELMO during the project implementation phase has been extremely supportive. We are now using the Help Desk and our issues are usually resolved within 24 to 48 hours.
Contras:
If an employee has not completed all their documentation we would like an automatic alert. At this stage we need to manually check on this.
Respuesta de ELMO Software
el año pasado
Hi Helen. We really appreciate the time you've taken to provide such a great review, and thank you for your continued support. Our customers are at the heart of our business, and feedback like yours is invaluable. We have passed your feedback on to our Product Development team. We hope your organisation enjoys the benefits of ELMO's cloud-based solutions. Best wishes, ELMO Software.
Clinton
Digital Health Advisor en Australia
Salud, bienestar y deporte, 51-200 empleados
Ha utilizado el software durante: Más de dos años
Elmo has a modern, clean interface, and can be highly customised
Comentarios: We use Elmo for our Leave applications, personal leave, Annual leave etc., as well as keep us updated on what documents/certificates/checks are needed for our employment.
Also Elmo enables us to provide some onboarding modules for our new staff, so it's great to have that in one place, and means the new staff become familiar with it's operation from the start.
Puntos a favor:
Ease of use is high. Clean layout within the software is helpful. Customisation means we are not forced to use pre-defined templates as with some other apps, so we can tailor the forms to suit our business processes.
Contras:
The other side of the customisation coin, is that the forms seem to need creating from scratch. At least that's the feedback I have had, as a user, from the staff who are creating the forms, but this might be a gap in their knowledge so might be good to look at Elmo/talk with a rep to see what pre-defined templates they may have available.
Respuesta de ELMO Software
el mes pasado
Hi Clinton. Thanks so much for your detailed review. It's great to hear your feedback about ELMO's Leave Management and Onboarding. Please do not hesitate to reach out regarding pre-defined templates, your system administrator or your Account Manager here at ELMO can help. Thanks again, we really hope you and your organisation continue to benefit from using ELMO Software to streamline your HR processes! Best wishes, ELMO Team
Catalina
Director en Australia
Recursos Humanos, 2-10 empleados
Ha utilizado el software durante: Más de un año
Alternativas consideradas:
Best for my needs
Puntos a favor:
It's straightforward and the support available makes up for any uncertainty or challenges I have experienced.
Contras:
The contracts module, if not purchasing the recruitment module, is quite clunky and unclear. There is very limited access to training material on it; luckily my implementation consultant is brilliant.
Respuesta de ELMO Software
el año pasado
Thanks for a great review, Catalina. We love to hear that you are finding ELMO's support and implementation teams and resources helpful. We have also passed on your feedback to our Product Development team. ELMO Team