Snap Survey Software
¿Qué es Snap Survey Software?
Snap Surveys offers Snap XMP, a collaborative online survey platform for survey design, data collection, feedback management, and advanced analysis and customized reporting. Create engaging,
Leer más
measurable experiences - surveys, forms, evaluations, and more. Design in any survey mode - online, mobile, offline, and scannable paper surveys - in any language. Host surveys using Snap Online for secure survey management or install the On-Premises Server Edition to host surveys on your own server.
Mostrar menos
¿Quién usa Snap Survey Software?
Designed for ALL industries: education, market research, healthcare, government, non-profit, and more to streamline survey design, feedback management, analysis, and reporting.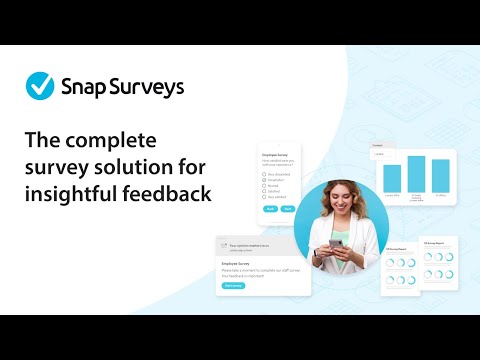 ¿No estás seguro sobre Snap Survey Software? Compara con una alternativa popular
Versión gratuita
Prueba gratuita
No se han encontrado integraciones
Versión gratuita
Prueba gratuita
¿Por qué estoy viendo esto?
Alternativas a Snap Survey Software
Opinones de Snap Survey Software
Sarah E
President & CEO en EE. UU.
Servicios jurídicos, 2-10 empleados
Ha utilizado el software durante: Más de dos años
Powerful survey creation & data management program with some unique features
Comentarios: I've used Snap Survey since 2009. At the time, it provided the best balance of cost and functionality of all survey programs we reviewed. Now, as the price has gone up, the value it provides is not quite as good, especially given its weak reporting abilities. It is still a powerful program that has a lot of great feature and advantages that you can't find in competing products. If you work with paper surveys on any level, it is superior to anything else out there. If you want quick and easy reporting for your own purposes, it is also excellent.
Puntos a favor:
Snap is a powerful program that gives you the benefit of having both a local installation and a cloud-based Web server, which is something I appreciate in the days of cloud computing because having to rely on wifi connections and someone else's server management can be a recipe for disaster. it allows for the creation of question libraries and easy drag-and-drop additions of questions, and powerful formatting management through styles. It offers a simple way to view top-line results and the ways you can print quick reports is simpler and more compact than I've seen in competing products. Snap allows you to create surveys in all kinds of formats, including paper, and it handles them all equally well, which it not true of many competitors. I like that you can automate entry of paper questionnaires with the scanning version because there are still circumstances where paper surveys may be the best solution, in whole or in part. Snap also creates pretty clean exports to SPSS and other formats for more extensive statistical analysis than can be performed within Snap.
Contras:
Snap's reporting feature is poor. Custom reports are too hard to create and so it has been nearly impossible for us to use Snap to provide reporting for clients on the spot on projects. This is the weakest part of Snap. It is also difficult to learn and not intuitive for people who don't have prior experience with database design and management.
Respuesta de Snap Surveys
hace 5 meses
Thank you, Sarah, for the amazing review! You touched on many things that make Snap Surveys great; from its full functionality, surveys in multiple modes (including paper), and its data export and analytics capabilities. Your feedback on reporting is a fair one and a big reason why we're continuing to develop and expand upon our reporting capabilities in features like Dashboards which is starting to make its way into the lastest updates of Snap XMP. We would be happy to have a discussion on what your reporting needs are and any additional feedback you might have, so we can continue to develop Snap even better than before. Feel free to reach out to sales@snapsurveys.com.
Thomas
Insight Manager en RU
Usuario de Linkedin verificado
Servicios financieros, 1,001-5,000 empleados
Ha utilizado el software durante: Más de dos años
For the professionals
Comentarios: I'm using SNAP Surveys for more than 5 years (first within a boutique agency; now within a large organisation) and find this to be the best survey tool out there - also compared to the price that others are charging. Customer support is very reliable should there be technical problems.
Puntos a favor:
- Reporting capacities (the way datatables and derived variables are built) - How data can be piped into the survey (e.g. no need to ask gender, age-group, type of customer related questions when those answers are known and can simply be fed into the survey) - Level of personalisation possible in survey script and invite emails. - Telephone and email support is quick to respond should technical difficulties be encountered. - The fact that surveys are built offline on local machines rather than online (which ensures faster scripting of surveys and any changes to live surveys can be uploaded in one go rather than needing to fiddle with a survey that respondents may be taking at that point)
Contras:
Building visual reports can sometimes be tricky.
Respuesta de Snap Surveys
hace 2 años
It's great to hear that you are continuing to use and benefit from all the features and extensive capabilities that are available within Snap! I'm also pleased that our offline app is working as it should, enabling you to engage with live surveys, at any time, utilising quicker local connectivity. A top priority for us at Snap is to ensure that we continue to offer exceptionally high standards of customer service in all areas of the business, and that whoever you may need to contact, is always only a phone call away. We have strengthened our support team in line with our growing business so to hear such positive feedback means we are getting it right! Although reporting templates are available within the package, I understand that the more complex and sophisticated reports can be trickier to set up, but once created, often prove invaluable to customers looking for comprehensive and detailed analysis for their survey data. Should you need any assistance with these, our trainin
Merrie
Independent Contractor en EE. UU.
Estudios de mercado, Trabajador autónomo
Ha utilizado el software durante: Más de dos años
Alternativas consideradas:
Great product...easy to use
Comentarios: Great experience. Easy to get help when needed.
Puntos a favor:
Easy to use. Has all features I need for my stats tables.
Contras:
Merging data could be an easier function.
Respuesta de Snap Surveys
hace 5 meses
Thank you for your review, Merrie. I will share your feedback about data merging with our development team.
Carlos
Director en México
Estudios de mercado, 2-10 empleados
Ha utilizado el software durante: 6-12 meses
Great Experience and Great Price-Value product
Comentarios: As I mentioned before my previous experience some years ago was fantastic and I decided continue with Snap and I´m very happy and satisfied with the results and also with the extraordinary Tech Support . When I have a doubt I simply write an email to [SENSITIVE CONTENT] and always he helps me with the right solution.
Puntos a favor:
I have been working with Snap for a long time, more than 15 when this application was recent in the market with the old version. I Was Operation Director in GfK Mexico and I impemented this tool locally before Surveys Reports were the Global tool but for me Snap always offer a great relation between price and value. A couple of years ago when I decide to start a new business and I needed a tool I found Snap again and I decided without any doubt to implemented Snap for all my projects. In general term it is very powerful and It has the capability to launch any kind of project and it is very use to use for end users and also when I want to share some results with external clients.
Contras:
Maybe some tools to create templates with better look and feel to share with clients.
Respuesta de Snap Surveys
hace 5 meses
Thank you for your very thorough review, Carlos. We appreciate you being a long time customer of Snap Surveys, and we're glad you have been able to complete many projects using the survey platform over the years. Technical support enjoys working with you when you need some assistance - and we are always available when you need it.
Lauren
QualiSight Director en EE. UU.
Estudios de mercado, 11-50 empleados
Ha utilizado el software durante: Más de dos años
Snap Survey Desktop Software and Webhost
Comentarios: Overall, the software is easy to use and easy on the budget compared to other survey packages out there. Customer service and tech support are very responsive and helpful! Training modules and online resources are easy to use.
Puntos a favor:
Snap is pretty user friendly and the webhost features are easy to learn and use as well. We like the tracking of respondents and the ability to download results in multiple ways.
Contras:
Would like to add a respondent directly through a form in webhost instead of having to use the desktop software to create a respondent file and upload. Seems time consuming for just a handful of new respondents. Snap desktop software "breaks" the survey often and creates the need to manually download and import survey responses. Once this happens, it has to be done manually for the life of the survey. Tech support has never found a cause or a fix for this.
Respuesta de Snap Surveys
hace 5 meses
Thank you, Lauren! We're glad to hear that you've had positive experiences with our staff, and are sorry to hear about the respondent and survey breaking difficulties. Our new Snap XMP environment may help with both of these. Within it respondents can now be added individually, and survey synchronization is much more robust.