Canapii
¿Qué es Canapii?
Canapii provides unique solutions to manage in-person, hybrid and virtual events. As the only supplier with genuine 24/7 customer service, our global team lives and breathes events, no matter their
Leer más
location or size. By being ahead of the innovation curve, we enable our customers to impress their audiences every step of the way. Conferences, board meetings, webinars, hybrid events, interactive podcasts, press briefings, online training, workshops, you name it. We do it all.
Mostrar menos
¿Quién usa Canapii?
All organizations and individuals from around the world.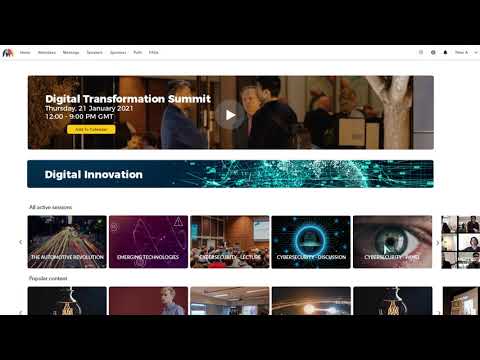 ¿No estás seguro sobre Canapii? Compara con una alternativa popular
No se han encontrado precios
Versión gratuita
Prueba gratuita
No se han encontrado precios
Versión gratuita
Prueba gratuita
¿Por qué estoy viendo esto?
Tecnología y servicios de la información, 11-50 empleados
Ha utilizado el software durante: 1-5 meses
Una experiencia satisfactoria para la interacción a distancia
Comentarios: Como mencionaba más arriba, la plataforma es excelente para lograr unificar puntos de contacto con colegas y marcas, a fin de establecer mejores y estrechar lazos. Además es una excelente herramienta para lograr participar de eventos donde grandes referentes de mi industria comparten charlas, novedades, etc. Asimismo, también me ha permitido conocer nuevas marcas, nuevos proveedores, conocer tendencias del mercado y comprender mejor cómo se desarrollan los negocios en otras partes del mundo.
Puntos a favor:
La posibilidad de interactuar directamente con los participantes, la posibilidad de utilizar grupos de mensajería instantánea para compartir ideas, novedades, realizar consultas, etc. Asimismo, es bastante amigable la plataforma para lograr agendar reuniones y acceder a las mismas. Otro punto a favor es el envío de las citas una vez aceptada una reunión, lo que permite mantener una agenda ordenada.
Contras:
La pantalla principal con el listado de todas las sesiones no me parece ordenada y fácil de identificar, hubiese preferido una sección específica para esta parte, dividida por marcas o temáticas y con un listado en modo grilla calendario. Algo que podría haber mejorado la experiencia de uso como de portabilidad, hubiese sido contar con una app para dispositivos móviles que también permitiese la interacción como sucede en el sitio web.
Respuesta de Canapii
hace 2 años
Thank you for your feedback Leandro! You're right, networking is key to every event. That's why at Canapii, we have conceptualized our tools and solutions to further enable connections and engagement. We are also still improving the usability of our platform, both from an attendee side as well as for our event organizers. You will see that we now offer more flexibility on how you promote the content on your platform and share it with your audience. We also launched the Canapii Mobile App!
Jennifer
Recruiter en EE. UU.
Alimentación y bebidas, 51-200 empleados
Ha utilizado el software durante: Prueba gratis
Alternativas consideradas:
Very Happy with Canapii
Comentarios: It was very good overall experience. I was able to get tech support, resources and personalized service from my contact [SENSITIVE CONTENT]. She provided exceptional service and guidance to help me get my event set up to perfection.
Puntos a favor:
Working from the back end and seeing the beautiful we page that showcased the company. It had so many features, chats, videos, messaging.
Contras:
It could have been something wrong with the software or my network but for one hour I could not log into my event. I tried using Chime and I tried using Teams to start a live session but neither worked. Some of my attendees said they had trouble logging in a they didn't know how to get on. But for the most part I knew how to navigate and was able to guide them.
Lisa
Project Assistant en Francia
Salud, bienestar y deporte, 501-1,000 empleados
Ha utilizado el software durante: 1-5 meses
Alternativas consideradas:
Successful interactive event
Comentarios: The support and team behind it is great, helpful and always found solutions!
Puntos a favor:
Interactive features such as live polling, Q&A's and the live chat box!
Contras:
Canapii can improve the way the page translates, in our case not every word needed to be translated from English.
Respuesta de Canapii
hace 2 años
Hi Lisa, thank you for sharing your feedback with us! When organizing a virtual event, it is vital to ensure that your attendees are always engaged with your content. Therefore, leveraging features like polls, live Q&As, and chats all build up to a great attendee experience. Canapii is a global company. Our teams are based around the world and always ready to support you with your events. Furthermore, our platform can be translated to almost any language possible - making sure that your audience is never left out!
Amr
Instructional Designer. en Egipto
Educación superior, 11-50 empleados
Ha utilizado el software durante: Más de dos años
Engaging Virtual Event Platform.
Comentarios: Canapii helps me network with colleagues and have productive conversations with my industry leaders through virtual events and webinars. It's a distraction-free platform that makes it easy to create, manage, and access my previously attended events, all within one simple dashboard.
Puntos a favor:
I like The main dashboard (Master Console) because it has a simple design and allows me to manage and see all the events I'm attending or hosting in one place. Also, the fixed header menu of the event page has the most needed tools and features that both attendees and hosts need to manage their profiles, find information, interact and have a successful event.
Contras:
The android mobile application needs more enhancement to deliver a better User Experience.
Todd
Managing Director en EE. UU.
Servicios financieros, 2-10 empleados
Ha utilizado el software durante: 1-5 meses
Healthcare Huddle
Comentarios: The team that assisted us were great. There is no way we could have pulled it off without them.
Puntos a favor:
The visual presentation of the conference was excellent.
Contras:
It took me a little while to get familiar with it and I am pretty good with technology. Some of the users had issues getting into the break out rooms.
Respuesta de Canapii
hace 2 años
Thank you for your feedback Todd! We're happy to know you enjoyed the overall visual presentation of our platform. We are consistently improving our user's interface as well as experience to really create a seamless journey for all attendees. Our team works around the clock to make sure that your event is successful. After all, we share the same results :)