DrChrono
¿Qué es DrChrono?
El sistema EHR de DrChrono y la parte de gestión de consultas de esta solución de historias clínicas electrónicas (EHR) todo en uno, basada en la nube y para dispositivos móviles, viene con conversión
Leer más
de voz a texto y plantillas/formularios personalizados para llevar un registro eficaz del historial clínico de los pacientes. Con el software de PM de DrChrono, obtienes un feed de reclamaciones en vivo para la facturación y el procesamiento de pagos, la generación de formularios HCFA/superfacturas y la integración con fax por correo electrónico. Las verificaciones de elegibilidad en tiempo real te ayudan a verificar la información de los pacientes y los recordatorios de citas personalizados pueden enviarse por correo electrónico, SMS o teléfono en cualquier orden. Si eres estudiante, visita el área de DrChrono para universidades.
Mostrar menos
¿Quién usa DrChrono?
DrChrono atiende consultas pequeñas de un solo proveedor y consultas de grandes grupos médicos con múltiples personalizaciones según la especialidad.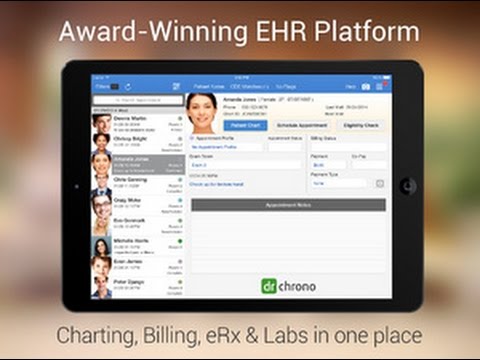 ¿No estás seguro sobre DrChrono? Compara con una alternativa popular
No se han encontrado precios
Versión gratuita
Prueba gratuita
Versión gratuita
Prueba gratuita
No se han encontrado integraciones
¿Por qué estoy viendo esto?
Amy
Clinical Massage Therapist en EE. UU.
Salud, bienestar y deporte, 2-10 empleados
Ha utilizado el software durante: Más de un año
Fuente: SoftwareAdvice
Massage Therapist Employee at a Chiropractic Clinic
Comentarios: I trust the business savvy of the Chiropractor that I worked for while using this software. He did his research and chose this software despite that it is less catered to a Chiropractic office than a medical doctor's office. There are many good aspects to it. It is ultimately more than what I would need as a Massage Therapist and not enough of what I would need. It was ideal to have it for my notes while being an employee, however. I wish all software had such wonderfully customized SOAP notes!
Puntos a favor:
The SOAP notes were amazing. Being able to customize how to use them in terms of using intensity number scales, images, drop menus for frequently address muscles and more. It would also flood notes from a previous session, since there are often a lot of similarities, while allowing for easy changes to everything that could have been different that session. Well through thew, easy to use. The best SOAP notes I have ever used from Millennium (2 versions), Clinic Sense, MassageBook, Vagaro & Mind Body. Dr. Chrono is a land slide winner.
Contras:
1) The system does not allow for varying appointment times for different types of practitioners. For instance, clients trying to schedule a 10min chiropractic adjustment & 60min massage ONLINE, would have their massage session only block off 10mins of the MT's schedule. (When the MT only had 15mins between clients, the client was led to believe they scheduled their 60min!)This created a lot of confusion for the clients and the staff needed to watch these bookings like a hawk. We regularly had to call clients & manually reschedule both the chiro & MT appointments over the phone, defeating the purpose of online scheduling. 2) It is very expensive at its base price. I realize that it is for health care professionals who are billing insurances companies etc. so the value may be there but it prices out many. Massage therapy practices, even those that bill insurance, have smaller profit margins than many doctor offices and could not afford this in most cases.
Dr John
Non-Force Chiropractor en EE. UU.
Hospital y atención sanitaria, Trabajador autónomo
Ha utilizado el software durante: Más de dos años
Fuente: SoftwareAdvice
The ultimate software partner for your Mac computer office!
Comentarios: Patients save me time and charting by communicating through the onpatient portal.
I can run reports and have an immediate idea of what symptoms and frequency my patients are presenting and develop educational materials that support those diagnosis.
I stay on top of my day by way of daily schedule emailed to me every morning.
Puntos a favor:
Seamless integration with my MacBook, iMac and iPhone. Fast, knowledgeable support. The unlimited ability to customize for my sole practitioner non-force chiropractic practice. Easy to understand video tutorials which answer most questions without having to contact support. Robust, integrated systems, such as the ability to provide credit card processing. Knowing that drchrono is a leader and partner with Apple Health.
Contras:
I get frustrated when I am on a learning curve with a new part of the software. But that's my problem!
Jessica
Office Manager en EE. UU.
Salud, bienestar y deporte, 2-10 empleados
Ha utilizado el software durante: Más de un año
Responsive Support, and an Improvement-Focused Team
Comentarios: My regular interactions with DrChrono's support staff and management team were consistently wonderful.
The software could be a little more intuitively designed. I appreciate the magnitude of the service DrChrono strives to provide, and how challenging it must be to create a software that covers all bases.
Puntos a favor:
DrChrono is very powerful software that aspires to provide integrated solutions to many or all needs of a medical office. The customer support is absolutely the best part of DrChrono. It seemed clear to me that DrChrono was invested in listening to customer feedback and making updates to better serve their clients. Each page provides a great deal of information. It's worth investing the time to learn how to make the most of the software.
Contras:
There was one day when significant updates had been made to the software without any advance notice to the users. Left work one evening, started getting messages about the changes from struggling staff the next morning. That said, this happened only once in two years, and was not typical of the software experience. Training period recommended. This is not necessarily pick-up-and-go software for most people. The learning curve is relatively high, solutions aren't always intuitive, windows err on providing almost too much information so it can be a challenge to know where to focus for the data you need in the moment if you're not familiar with the software. It may be useful to note that emails sent through Dr.Chrono to patients are not HIPAA-compliant. While it's technically possible to manage inventory in DrChrono, there are better services out there.
Michael
Director of Operations en EE. UU.
Ha utilizado el software durante: Más de dos años
Great Foundation, Good value - Feedback is not heard
Puntos a favor:
Web interface is very good, particularly with the introduction of advanced task management. Easy to track electronic communication. Appointment templates are very helpful. App interface is great for physicians, but limited since it requires an iPad. Ideally, our Doctors could use a Surface device and have access to app interface and web interface as there are benefits to each interface. Billing Team - staff and support is rock solid. Responsive, polite and respectful of the importance of timely A/R processing and communication. By far, the Billing Team is the best representation of what DrChrono could be. The basic system is strong, robust and could be a truly excellent product with some relatively simple tweaks to managements attitude towards customer concerns.
Contras:
DrChrono does not have empathetic listening skills for business concerns, outside of the billing staff. Any and all criticism is dismissed and blamed on the user (see their responses to reviews here). Simple measures that would save their customers time and money (like a Windows app) are ignored. They act like Apple is their biggest customer (no Windows or Android support despite requests from clients). Support tickets are routinely closed prior to problem resolution. They do not allow you to call in to support for assistance, and often it seems like staff does not read the initial problem request as you have to repeat yourself 3-4 times (and get escalated) until you reach staff who can assist with anything beyond the most basic issues. Issues that impact ability to handle patient care or conduct business are not escalated appropriately. Even if a change they make to the system results in mission critical failures, there is no option to quickly escalate to an appropriate stakeholder at DrChrono. Simple requests, like customized disclaimers to limit legal liability when patients use the patient portal, are brushed off despite the risk to their clients.
Práctica médica, 2-10 empleados
Ha utilizado el software durante: Más de un año
Fuente: SoftwareAdvice
Better than any other EHR I have ever tried
Comentarios: I like that they pay attention to suggestions and they are VERY polite and courteous. They always have a very pleasant attitude, very optimistic and helpful. Whenever I am addressing a concern, I feel that they pay attention and try to solve it if they can.
The fact that they don't have a phone number doesn't concern me. My former EHRs DID have a phone number but you would wait on hold for 10 minutes before anyone picked up and then you'd just have to leave a message for the right person to call you back. DrChrono is very quick to respond to emails and it is about the same as if you had called them. Plus, when it is in email format, you can go back and see the answer to a question anytime because it is documented in email.
Puntos a favor:
To me, it is very straightforward and easy to use and navigate. If you are computer savvy, you could be up and running during the same week that you purchase this EHR. I like how the iPhone app DOES have a schedule for the day (despite what a previous review said) and it is super-easy to take pictures of insurance cards and pictures of the patient or their problems. The fact that it is cloud based is nice because I can operate it in the 35 different nursing homes where I practice. I have used 3 other EHRS before (OfficeMate, My Vision Express, and Crystal PM - for optometry) and they all had less capabilities than DrChrono. The ease of e-prescribing and e-faxing is also wonderful, and the claim filing is much easier than with the other EHRs.
Contras:
There are some glitches in the software. For example, billing for a self-pay item is tedious and time consuming and if you accidentally enter the wrong amount as what the patient paid and have to change it later, the computer can't handle the change and gets everything mixed up and says the patient has a credit when the patient does not have a credit. Sometimes you just have to delete everything and start all over if you come across a billing glitch like that.